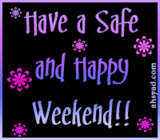 Well, it's Friday night in Australia ...
That means the weekend's here.
Time to let our hair down
Let's all give a little cheer !!
Our Autumn weather's so Summery,
The trees aren't changing colour yet,
They can't make up their minds.
I hope your week's been a good one,
With lots of laughter and fun.
If it's Spring now where you're living,
I hope you're seeing some sun !!


Have a great weekend in your part of the world.

Bye for now,

MEOW