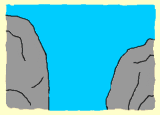 Obstacles don't have to stop you. If you run into a wall, don't turn around and give up. Figure out how to climb it, go through it, or work around it.
-- Michael Jordan --


I have added a couple of links on my side bar, just below my profile and just above the licking kitty, which will take you to 3 more blogs about me .... one is "My Favorite Pictures" (you may have already been there, as I have had this one for awhile ... it is, however, a work in progress), another is "100 Things About Me", and the other one is "Craft and Stuff" - which shows photos of a lot of the various craft projects I have completed over the years. Don't know how many of you would be interested in any of these blogs, but if you are ... there they are. If you do have a look, please let me know what you think.

I hope everyone is having a wonderful day.

Take care,

MEOW