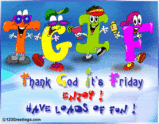 Hello Fellow Bloggers ....
I hope you have all had a wonderful week. I certainly have, although I am surprised how quickly the week has flown (again !). Must be an age thing ... I remember as a child the days and weeks went sooooo slowly (particularly the school week !!). The school holidays always went too fast though ... go figure !!
I got my hair cut this morning, finally !! I'm not one for getting my hair cut every 6 weeks, like people recommend ... I'm lucky to get it done twice a year. I hate getting my hair cut, although I am always happy after the fact, that my hair looks so nice again. Now, all I have to do is put some fresh colour in it (to hide the beautiful grey ones that continue to sprout on my head !!), and I will feel like a new woman. Now if only the body were as quick and easy to change ....
I haven't really got much else to say at this stage ... gosh, I'm kinda boring, aren't I !?!?!
I have a bit of typing to do, again, over the weekend, so I may not be able to drop over and visit for a few days ... I will be back.
I hope everyone has a wonderful weekend. Perhaps you will be doing a bit of this ....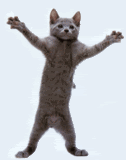 Hopefully, when you dance, you look somewhat more co-ordinated than this very strange kitty.
So, dear friends, that's it from me for now. I hope you have a wonderful, wonderful weekend.
Take care,

MEOW