Hi there, my friends. I hope you had a wonderful Easter ... we had a fabulous time ... let me tell you about it !!
We left bright and early Friday morning (Hubby was on night shift, so as soon as he came home ... 6.30am ... we packed the car, and were away by 7am). It was cloudy, and cool, and we could see the rain coming.
Seeing that it was so early, and a public holiday, the roads were blissfully empty ... we had a brilliant run all the way to Bonnie Doon. Those people that arrived later in the morning were cursing the traffic ... apparently it was really busy !
We unpacked, and relaxed for awhile, before all our friends either arrived or awoke (some had arrived the previous evening). The weather was yucky all day ... very cold, and very wet. All we really did, and could do, was chat, and then chat some more !!
Saturday arrived to more cooler weather, although the rain did clear later in the day, and the sun came out. We went into Mansfield (about 25 kms away) to go to the Bush Market ... I bought us all some new moccassin slippers, some lovely handmade soaps, and some other stuff ... great fun !
Here's a photo of our caravan / annexe setup ... the caravan is on the left, the annexe is on the right, and the huge timber decking is out the front (that's really all you can see !!) ... the caravan and annexe are all under a roof, so from the front it really no longer looks like a caravan and annexe !
Saturday night I helped run a Trivia night (thank you to all of you who contribued questions ... I actually used most of them !). It went well ... we went through 6 sets of 20 questions. Some were hard, some were easy ... everyone seemed to have fun. Afterwards, Hubby and I played Easter Bunny, and hid the chocky eggs around the caravan for Chicky to find in the morning.
Sunday morning ... Easter Sunday ... started off lovely. Chicky enjoyed hunting for her eggs, she ended up with quite a haul !! During the course of the weekend, there were all sorts of competitions happening in the park ... golf, tennis, table tennis, lawn bowls, Daytona, BMX, coloring competitions, and others. Chicky entered into a BMX bike riding competition ... she was the only girl in her age group ... what a champion !! Unfortunately, her times didn't earn her a place (she also didn't have a BMX, just a normal mountain bike), but she did well ... and I imagine it was pretty scary for her, being the only girl !!! She got a special mention that evening, at the presentations. In the afternoon we went with 3 other cars for a drive down into the lake bed, and up a few hills. Here are a few photos showing views around the lake bed ... the lake is currently only around 20% of capacity.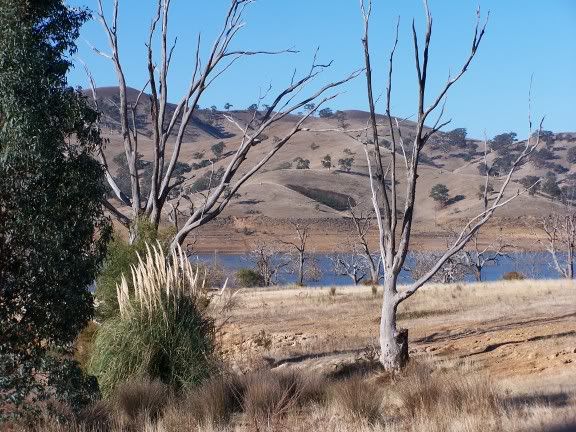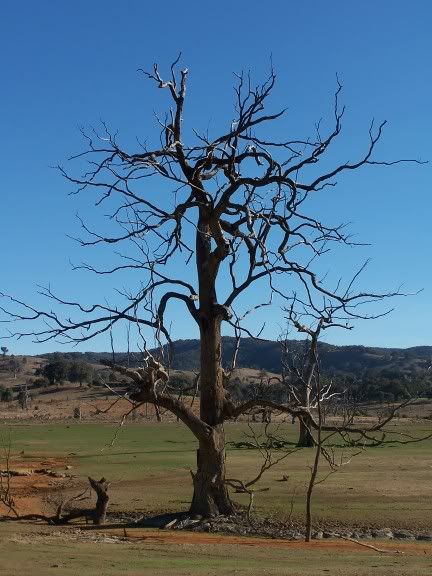 We climbed up a hill - by car - called Chinamans Hill ... unfortunately the photos don't do it justice ... it is really quite steep.
The views from the top were amazing ... this one is looking south, down the main arm towards Eildon ...
Some of the boys decided to drive down the steep side ... some of us went down the same way we came up ... personally, I don't like the steep side ... it is reaaaaaally, steep !! Once again, the photo doesn't do it justice !
We went and explored some more, after coming down from the hill. It is really beautiful around here ... at least we think so !!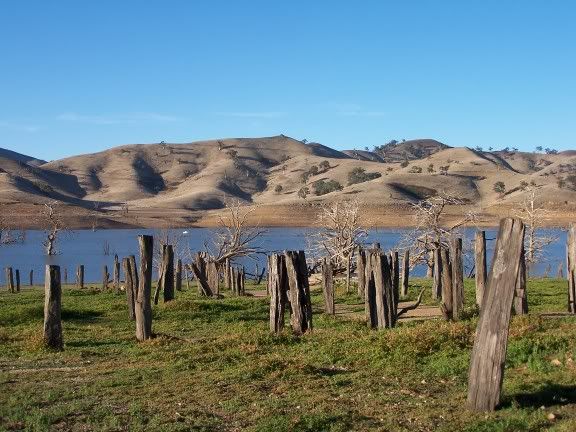 It was a wonderful day ... we finished off with a few drinks on the deck of one of our friend's caravans, and had a not too late night (all this fresh air tires you out !!).
Monday started off really foggy, but cleared up into a beautiful day. We ladies all went for a walk to the water's edge ... mainly to take some more photos. It is fascinating seeing what appears when the water disappears ... the trees have an eerie look about them, and there are many creeks and ditches around the place.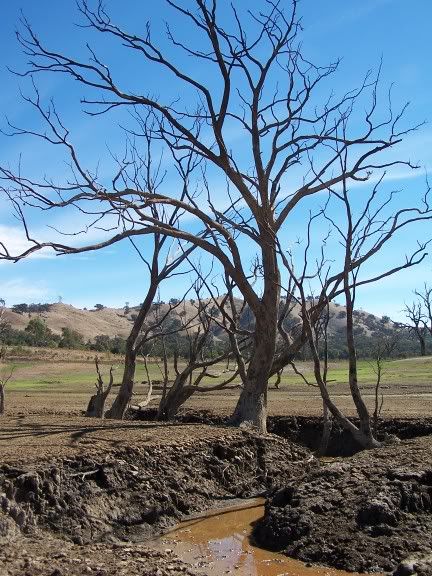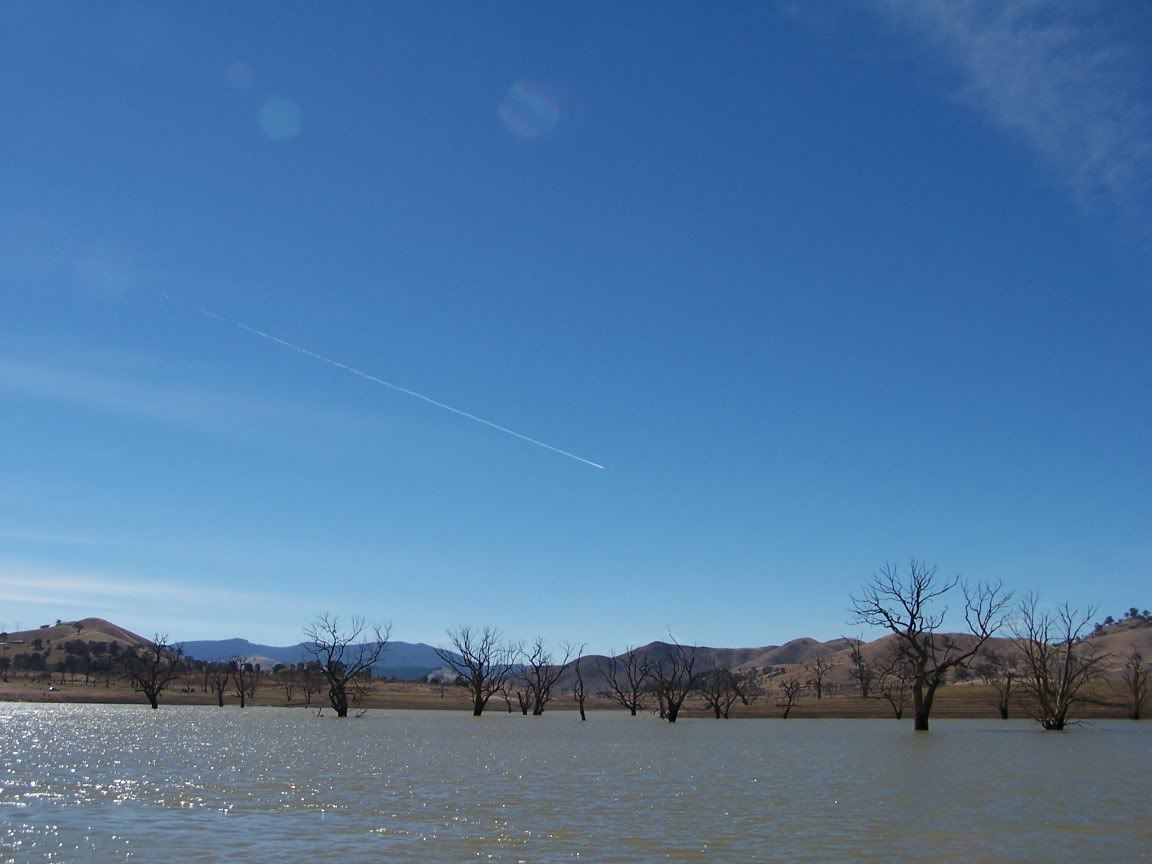 So, all in all, we had a wonderful weekend. The traffic on the way home was absolutely disgusting ... what normally takes 2 hours, took almost 3 !! I think it would have been this way, no matter what time of day we left ... as it was, we left around 4pm, got home just after 7pm.
I hope everyone's weekend was as wonderful as mine, no matter how you spent it. Thank you to everyone for your wonderful Easter greetings.
I think I had better go now, off to the boarding cattery to pick up our kitty-cat from her holiday, then some washing, housework, write some postcards (which I didn't do over the weekend ... naughty me !), and a multitude of other stuff.
Have a great week, everyone, and take care.
MEOW