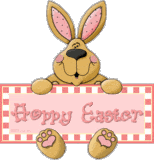 Just a quick one from me today ...

We are heading off in the morning (Friday) for a 4 day weekend away. I thought I'd post a quick Happy Easter message to all my wonderful blog-friends. I don't know if I will have much chance over the weekend to get on the internet ... depends on time, and of course, the availability of network coverage up at Bonnie Doon (which has become notoriously unpredictable!!).

So, in case I don't get a chance to catch up over the weekend, I hope everyone has a wonderful Easter, and the opportunity to get together with family and friends, do some long-overdue relaxing !!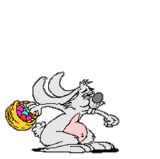 I would also like to say thank you to all the people who decided to take part in the Postcard Challenge. I have received via email about 20 addresses from you all, my wonderful blog-friends ... wow, that's a lot of hand-writing ... writer's cramp coming up !! I haven't yet written out the cards, but will do them over the long-weekend, and will post them out on Tuesday. Thank you, everyone ... this is so exciting !! I only hope the snail-mail from Australia isn't too slow ... who knows, sometimes it is, sometimes it isn't !!
So, that's it from me ... gotta go fold mountains of washing, so I can pack our clothes, then the food, then anything else that we need to take. I also need to get to school early, as they have a Easter Hat parade for the younger year levels, and my Chicky, being a big Year 6er, has been chosen to be the Easter Bunny and, with helpers, hand out Easter Eggs to the littlies ... she's gonna look so cute ... gotta remember to take the camera !!
HAVE A

EVERYONE
Stay safe, take care,
MEOW