Hello again, dear blogging friends ...

I haven't had a chance to post since last Wednesday (wow, that's quite awhile ago !!), but I am here now, and I will, for sure, be coming by within the next few hours to visit you all.

Anyway, what have I been doing ....

Thursday ...
I spent most of the day over at my parent's place. Mum & I were going to go shopping together, but she had hurt her back the previous weekend, and shopping would've been too painful for her, so we just hung around and chatted. Dad was there most of the time too. It was lovely, as it was just the 3 of us (I am an only child), and it was like "old" times ... before marriage and parenthood came my way. Now don't get me wrong, I loooooove being married and being a mum, but there's nothing nicer than being the "kid" again with my parents. We talked about all sorts of things, and had a wonderful day.
After leaving mum and dad's, I had to do a rush grocery shop, so that I could get it all home, unpack, and get over to Chicky's school early to pick her up and take her to a class at another school. We eventually got home around 5.30, when I cooked dinner, tidied up, and sat back down at this computer, to continue my never-ending typing !!

Friday ...
I spent most of the day at my Aunt and Uncle's, finishing off what I started early last week, sorting out their computer, uninstalling and installing various programs, to make it a happy PC again. They fed me lunch (which was nice), and we then looked at all the photos from our recent Broken Hill holiday. I made it home, just in time to pick up Chicky from school. We were home for only an hour, and then I had to take her and a friend to German lessons. Returned home around 7.30, and put together a quick dinner. Did a few loads of washing. Then more work on the computer. Gosh, what a day !!

Saturday ...
Hung up about 4 loads of washing, which I had washed the previous night ... gosh I hate doing the laundry, but it is a necessary evil !! Chicky had netball in the morning, which Hubby and I both watched. The girls won convincingly, again (they have won 6 out of 6 games so far !!). After leaving netball, we had a quick lunch at McDonalds (healthy !!!), and headed into the city to the 4WD, Outdoors & Fishing Expo. Spent quite a few hours there, getting lots of brochures and ideas, and more dreams !! Headed home, light dinner, and watched some TV. No computer for me, for a change !!!

Sunday ...
Yay, I had a bit of a sleep in. Hubby did an extra shift at work ... 6am till 6pm ... so Chicky and I had the day to ourselves !! We went into Knox City (our local shopping centre) to look for a dress for Chicky to wear to her Grade 6 Graduation dance in December. We spent a few hours scouring the shops, and found a lovely dress and some shoes. Just need to get some accessories (jewellery and stuff), and she's ready to go !! Spent the remainder of the day pottering around on the computer (how unusual !!), and continuing with my typing ... nearly there, thank goodness !! Watched a bit of TV, and off to bed.

So, there you go, that's my last few days. Not very exciting, but very busy !!

What have you been up to ???

I hope you all have a great week.

Take care,

MEOW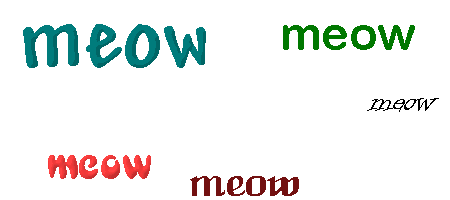 It takes a lot of courage to release the familiar and seemingly secure, to embrace the new. But there is no real security in what is no longer meaningful. There is more security in the adventurous and exciting, for in movement there is life, and in change there is power.
--Alan Cohen--